As we move into Q3 of 2019, it is a good time to reflect on what we've achieved at Howarths over the last three months.
The Howarth Foundation on Sky News
We've experienced some really exciting opportunities, led by our appearance on Sky News in June. Credit to the fantastic work of our family-run charity, The Howarth Foundation, the team at Sky News ran a story about the impact we are making on the homelessness situation in Leeds. The feature aired on the Sky News weekend breakfast programme, Sunrise, providing some welcome relief in between stories about Boris Johnson and Donald Trump (we keep good company!).
The story then ran as an 'exclusive' in the Daily Express, and if you missed it, why not take a read here?


New projects and new faces
Howarths also continues to engage with some fantastic businesses in our region. We recently agreed a new enhanced, three-year contract with Express Bi-Folding Doors that will see us support them with ongoing HR and employment law advice, while spending more time working with the company's management team to upskill them in preparation for more fantastic growth. This is an exciting opportunity for Howarths and our relationship with Express Bi-folding Doors is one the team here is very proud of.
After recently welcoming Louise, our Sales and Business Development Manager, to the team, we have since grown the team again with the appointment of Mandi Winterton to further strengthen our sales department. Mandi previously worked for Howarths and has now returned to the family! We welcome Mandi back into the fold and look forward to working together again.
Supporting Universities and championing mental health at work
We are also very proud of our relationship with the University of Huddersfield, with whom we have worked closely over the last few months to explore what the future of HR needs to look like in order for Yorkshire's SMEs to attract and retain the best possible talent.
Our work culminated in a two-day event at which our Finance Director, Tracey, was the keynote speaker. Tracey opened the event imploring SME's in our region to place HR at the very core of their business if they want to continue to grow; a message we are very keen to espouse to boards of directors and owners who are looking to take their business to the next level! You can read more from Tracey via The Yorkshire Post.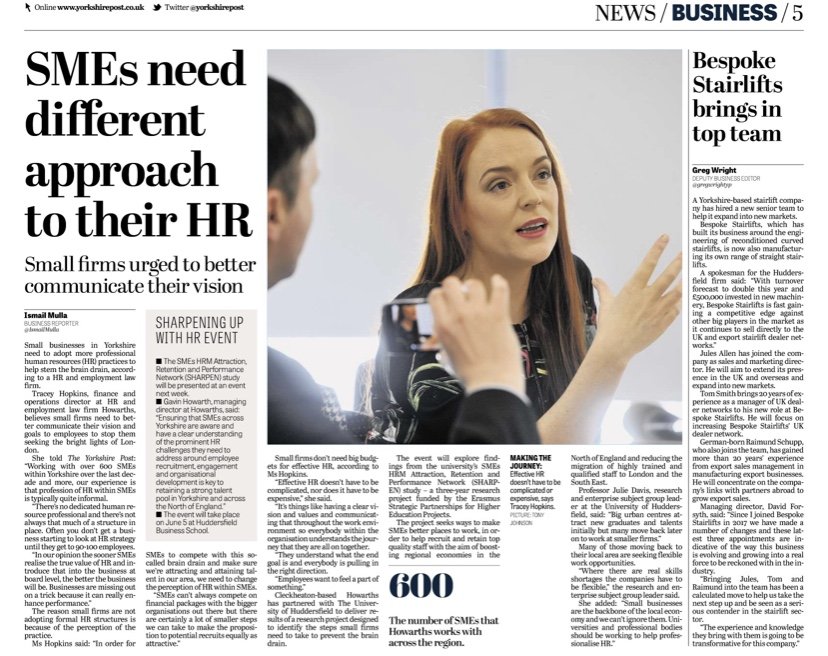 Finally, we also celebrated mental health awareness week at Howarths with a series of mini events for staff, which included a 'walk in the park', group meditation and an introduction to therapy. I am very proud of our engagement and openness towards mental health in the workplace and would encourage other businesses to look at this issue.
Myself and Kirsty Vickerman, mental health nurse at PROHMS, were also invited as guests to the Stephanie Hirst Show on BBC Radio Leeds where we spoke about what employers can do to support their teams and create an culture of openness around mental health at work.


Ensuring the mental well-being of your team in the workplace is not only a legal consideration, but also, I would argue, a moral one. Further than that, it makes solid business sense.
Until next time.
Gavin Howarth.