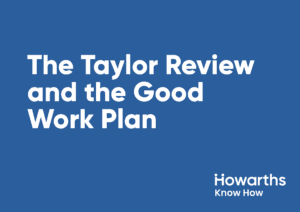 Whitepaper: The Taylor Review & The Good Work Plan
A paper on the government's proposals to reform employment law in response to the Taylor Review of Modern Working Practices and the resulting outcomes four years later. Specific focus is had in respect of the matter of zero hours contracts and how, in spite of the Review's aim to confront a whole set of linked issues within the UK labour market regulation policy (many of them associated with the rise of self-employment and to so-called 'Gig Economy') the problem of the growth of the use of zero hours contracting remains central and critical to the creation of true labour market flexibility.
Click here to download the whitepaper.
If you require any further advice or guidance on The Taylor Review & The Good Work Plan please contact a member of the Employment Team on 01274 864999.